February 24, 2018
Harry & Meghan's wedding seating plan
With Prince Harry's wedding to Meghan Markle fast approaching we thought we'd imagine what their table plans might look like. Each of the designs below has been made using the free wedding table plans that are available on this site.
So who would be on the head table? Top tables normally limit guests to 8 or less people, all sat facing the same direction but it's becoming more popular to have round tables at a wedding breakfast. We can see Harry and Meghan going with the following: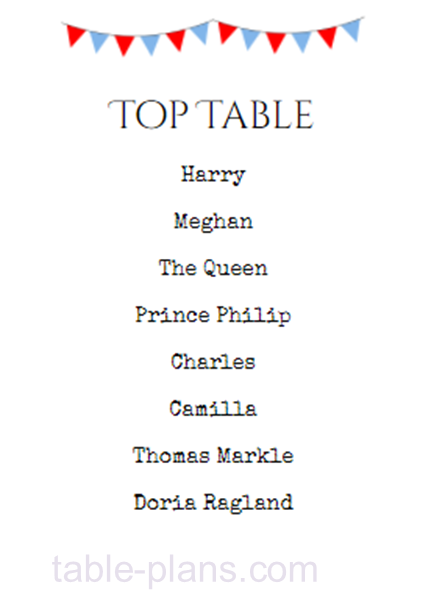 Meghan's parents (Thomas Markle & Doria Ragland)are divorced but appear their relationship appears amicable. It can be tricky deciding where to sit divorced parents at a wedding without causing offence to someone.
Prince William and his wife Kate keep on expanding their numbers with baby number 3 expected this year. At a normal wedding you'd expect to sit siblings on a separate table, especially if there's several kids that need to be seated.
How will the other guests be seated? Will Camilla be on the top table? Will Jeremy Corbyn be sat with Teresa May and Boris Johnson? It can be tempting to lump people from similar professions together when planning seating for a wedding breakfast but you have to consider of they'll rub each other up the wrong way.
What if Nigel Farage turns up uninvited? Might Harry and Meghan need a spare table kept free to cater for unexpected guests?
The government has said there'll be no bank holiday to celebrate the wedding of Harry Meghan. That won't stop many people wanting to gather in large groups to watch the coverage on the BBC. If you do have a gathering, feel free to use the free table plans on this site to help organise all your guests