March 21, 2018
East Quay Venue Review
Located within a 45 minute drive from London, the East Quay venue is a perfect wedding location for couples wishing to enjoy stunning sunsets on their wedding day. The following summary is based on a first hand experience for a wedding that took place in July 2016.
Location
Trains from St Pancras or London Victoria can get you into Whitstable in about 90 minutes. From the station the East Quay venue (also known as The Lobster Shack) is accessible by foot in about 10 minutes. This allows guests to return to London in the evening if they wish (last train is about 10pm though).
For reference, if you have family in North London, they can get there by car within 75 minutes. There's a large car park opposite the entrance, otherwise the venue itself offers paid parking alongside the line of beach huts. The venue will often give couples vouchers to give to suppliers to allow free parking on the day.
Staff
All good venues need good staff to help you enjoy your day and not worry about logistics. When we married in 2016 a girl named Clare was largely in charge and always made time to answer questions in the run up to the wedding day. On the day the staff serving drinks and food are polite and everything you'd want for your guests.
Good points
There are many things that made the East Quay a great venue for a beach side wedding.
The Sunsets Even on a cloudy day (they do happen sadly) you'll get a great view of the sea. If you're getting married in Spring or Summer you've got a great chance of seeing a beautiful sunset with a vast golden reflection bouncing of a calm sea. Our wedding photographers stayed late on our day as they saw what great lighting was on offer when the sun was setting and they wanted to make the most of it!
Oysters What better place to go than Whistable if you like oysters? The venue can get an oster shucker in for 2 hours to dispense oysters straight after your ceremony. This will keep guests happy and really enhances a beach side theme. The menu at the East Quay gives you lots of options to choose from, be sure to choose at least one fish option (you're by the sea after all).
Venue Most couples have their ceremony upstairs. It'll fit about 100 guests. A curtain is pulled across the left hand side of the landing to hide the kitchen (work in the kitchen will cease whilst speeches and vows take place). It's up to you how flowers are arranged, but one option is to have a flowery wreath hanging above where the couple will make their vows. Downstairs is where you'll have your wedding breakfast and speeches. Both round tables and benches are an option (in 2016 round tables required an outside hire).
Uniqueness How many weddings get to have stunning views of the sea/sun? The best thing about a wedding at The East Quay is just how unique it feels.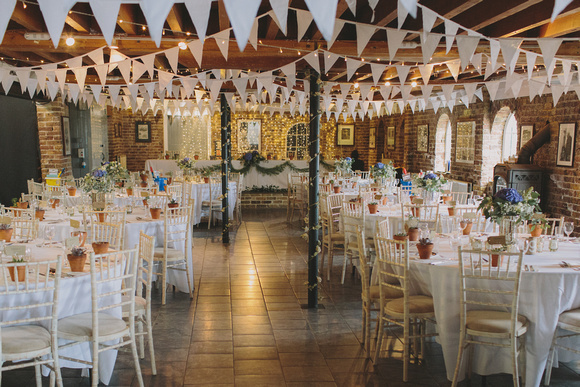 Bad points
In all honesty there aren't many downsides to choosing this as your venue. The one bit of feedback we had in 2016 was that there's a large step from the venue out onto the beach which can be quite tricky for elderly guests to navigate.
Accommodation
Guests have lots of options for staying near to the venue. Our recommendation is to check out:
The Crescent Turner hotel (5 minutes drive away)
The Marine Hotel (15 minute walk away)
Hotel Continental (5 minute walk away)
Premier Inn (5 minute drive away)
Travel Lodge (20 minute drive away)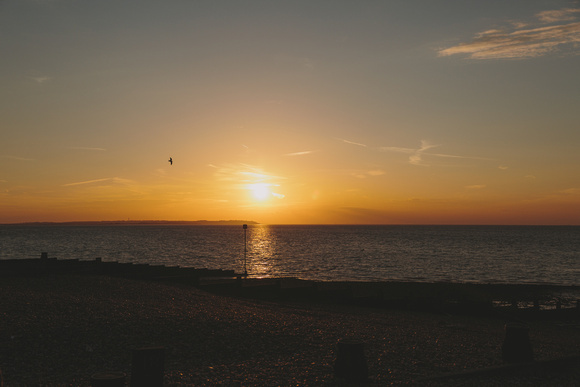 Things to consider
Most people want to get married in July or August and this can clash with the Whitstable Oyster festival. Literally hundreds (if not thousands) or people will swarm the beach and surrounding area. The East Quay does a good job of cordoning off the public from their venue but if you can avoid setting your date during the festival you'll give your guests an easier life when it comes to parking.
In previous years the oyster festival has been on these dates:
2015: July 24-Aug 01
2016: July 21-31
2017: July 22-24
2018: July 21-23
In recent years they have tended to have it towards the end of July to allow kids on school holidays to attend. The oyster festival in 2019 is likely to be July 20-22 or July 27-29
Cost
Costs varies a lot depending on your food options and day of the week you get married. It's best just to get a quote from the venue.
Summary
The East Quay (Lobster Shack) is a wonderful place to get married and is likely to grow in popularity in years to come.