June 24, 2018
Create digital A2 Wedding Seating Plans for printing
We are pleased to announce a new section of our site that allows you to create wedding seating charts in A2 size. This lets you create an eye catching centre piece to your wedding breakfast. Seating plans are a great way to be creative and are also functional, in that it helps your guests know where they are sitting.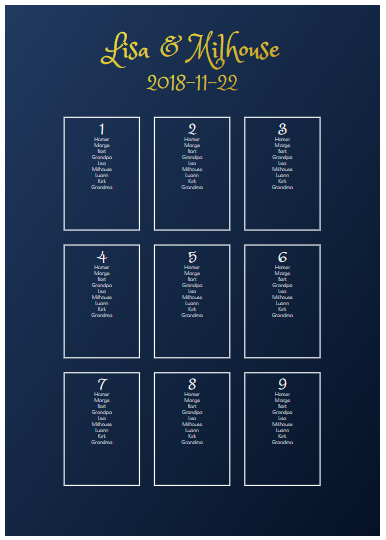 Our new interface is flexible enough to handle between 4 and 10 tables (with about 15 guest per table, depending on what font you choose). You have the option of choosing different designs too so that the table plan matches with any wedding theme you have in place. To get started simply add or delete tables as required (the default is 9 tables). You can name each table (there's a list of table name ideas here) or simply number each table.
Simply type in each guest's name and click update to see how things are looking. You may also need to update the couple's name and wedding date. Once you're happy click the 'get my design' button and you'll be instantly taken to a high resolution version of your table plan. From here you'll see just how crisp and clear the final designs are. You can then save this to PDF using the Chrome browser. Make sure you choose size of A2 without margins in portrait mode. Inspect the pdf that is saved to check it's ok for printing.
In the UK you can cheaply print your A2 design online using many services such as:
Don't forget you can change the theme of your final design. We're always adding new designs!
We'd love feedback on this new feature so please let us know how it can be improved by reaching out to our twitter account. In future weeks we'll be adding several more fonts to choose from as well as some exciting artistic backgrounds
| 4 tables | 6 tables | 9 tables |
| --- | --- | --- |
| | | |